AMSEC Fire Safe
AMSEC fire safe repair Summit, NJ 07902.
This is a fabrication of which I am particularly proud. Bill's Lock, Safe & Security was called in to upgrade an AMSEC fire safe that was mounted in a wall in a house in Summit, NJ 07902.

 

The safe had a simple straight tailpiece combination lock and a key lock.  The key is actually the handle as it retracts the bolt work and gives the user something with which to pull open the door.

In this case, the combination lock had given the owner trouble in the past and someone had removed the wheels from the lock.  Only the small key was securing the safe.

We removed the door and took it to the shop for fabrication.  First, we did not want to rely on something as small as the key for the handle.  I did a full machinists drawing of the plug of the key lock and had a new "handle arbor" made from stainless steel at a machine shop.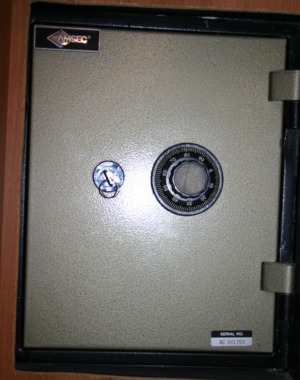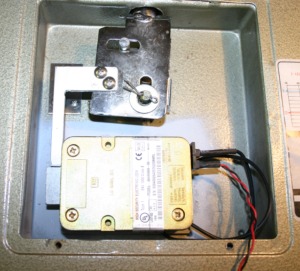 While they were making that custom piece of me, I fabricated a lock mounting plated from steel and welded it to the inside of the door.  To it, I supplied and installed a LaGard 33E ComboGard electronic safe combination lock.  I then cut and attached a blocking bar to the bolt carrier bar so that it would engage the bolt of the new electronic safe combination lock.

 

After I got the piece from the machinist, I installed it in the shell of the original key lock, attached the bolt carrier bar, indexed the assembly and finally, welded a stainless steel flat bar onto the arbor to create a handle.

We reinstalled the safe door and tested everything, it works great!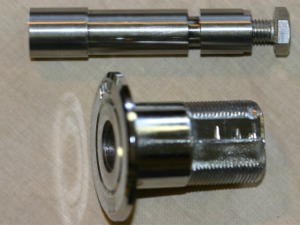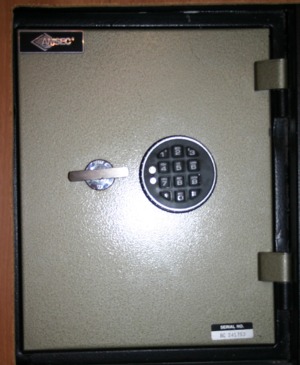 Security Safe Summit, NJ 07902
Safe Installation Summit, NJ 07902
Fire Safe Summit, NJ 07902