Locksmith – Safe Technician – Custom Security Fabrication
Professional Lock and Security Installations, Repairs and Maintenance for Residential and Commercial Applications in New Jersey / NYC / CT / MA / Eastern PA
William B. Kushnick (Bill) is a licensed and bonded locksmith in the State of New Jersey. Bill is a Certified Master Locksmith, a Certified Professional Safe Technician and a Certified Forensic Locksmith. He is also a GSA Vault & Container Inspector. He is a certified installer and technician for Mas-Hamilton X-07, Kaba-Mas X-08, X-09, X-10 and LKM-7000, LKM-10K Sargent & Greenleaf 2740 and 2937. Bill's Lock, Safe & Security is bonded and fully insured.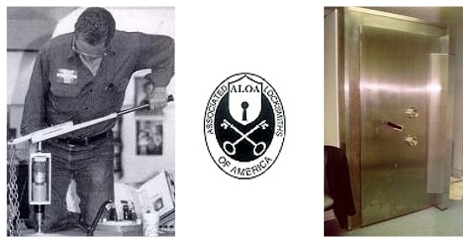 Residential Locksmith / Commercial Locksmith / Industrial Locksmith
     *  Certified Master Locksmith
     *  Certified Professional Safe Technician
     *  Certified Forensic Locksmith
     *  GSA Vault & Container Inspector
     *  X-07/X-08/X-09/X-10 Certified
     *  S&G2740 / S&G2937 / LKM-7000 & LKM-10K
     *  GSA Certified Safe & Vault Technician
Locks Rekeyed
When a customer moves into a new home or has to change the keys that operate his or her doors and the hardware is of good quality, he or she dos not have to purchase new hardware. The lock is recombinated (the combination of the lock is changed) by fitting new keys to the existing locks.
Masterkey Systems
A masterkey system is a system that is created so that each door or group of doors in a building has its own individual key (called a change key) and a masterkey that operates every door. A masterkey system can be multi-levelled meaning that there can be a grandmasterkey that opens all doors, sub-masters that open all doors in a related area, and individual change keys for each door (or room). An example of this is the grandmasterkey system we installed at a Hilton Hotel. There is a grandmasterkey, 12 sub-master keys (for example–front desk master, banquet master, engineering master, housekeeping master, accounting master, etc.) and individual change keys for each door or room.
Safe and Vault Openings
Safes and vaults opened by manipulation or drilling. Opening of burglarized safes is a specialty. Service and opening of GSA vaults and containers is also available.
Safe Combinations Changed
Setting new numbers for the combination of safes.
Life Safety Codes
We are also current with the most recent building codes concerning Life Safety and Barrier Free Design for the Americans with Disabilities Act.
Emergency Exit Hardware / Panic Hardware
We supply and install panic and fire exit devices, door closers and replace doors if necessary.
Fingerprint Readers
We have installed fingerprint reading systems manufactured by MorphoTrak (Sagem) and L1 Identity Solutions (Bioscrypt)
Access Control Systems
Using key fobs or cards, we can set up a system that will allow the end user to track entry by date and time, set up time zones for automatic unlocking of doors, track attempts of unauthorized entry and many other features at an affordable price.
Digital Security Systems
If you want to "buzz people into your office", we can set that up. We can also install digital keypads for access. We do many different types of electronic locks for specialized applications.
Locks Rekeyed
Master Key Systems
Safe Combinations
Changed Safe & Vault Openings
Electronic Locks
Card & Digital Access Systems
Panic & Fire Exit Devices
Medeco High Security Locks
Door Closers
Fire Door Inspections
Bill's Lock, Safe & Security has a full service fabrication shop and office located in Linden NJ 07036. As a centrally located Linden locksmith and security professional, Bill provides a unique set of security skills to clients in New Jersey, New York City, Southern Connecticut and Eastern PA.
Colonia Locksmith
Roselle Park Locksmith
Roselle Locksmith