Westfield Locksmith Services by Bill's Lock, Safe & Security
Owner Bill Kushnick is a licensed and bonded locksmith in the State of New Jersey.  Bill is a Certified Master Locksmith, a Certified Professional Safe Technician and a Certified Forensic Locksmith.  He is also a GSA Vault & Container Inspector.  He is a certified installer and technician for Mas-Hamilton X-07, Kaba-Mas X-08, X-09, X-10 and LKM-700 Sargent & Greenleaf 2740 and 2937. Bill's Lock, Safe & Security is bonded and fully insured.
Residential Locksmith Services Westfield NJ
Company owner Bill Kushnick is personally on the job to repair or replace everything from a front door entry lock to the newest high tech keyless home security system. Bill's Lock, Safe & Security can rekey locks, make duplicate keys, repair locks and install master key systems for home and business owners in the Westfield NJ 07016 area. 
Bill has been installing and repairing home security safes, home fire safes and all other forms of home document security and valuables protection since 1982.
Commercial Locksmith Services Westfield NJ
Security is a critical aspect of business operations for Westfield commercial and industrial enterprises such as office complexes, hospitals, government offices, educational institutions, warehouses, banks, retail stores and others. All have unique security needs. Some of these needs include access restrictions to protected areas along with valuables and document security. Some security needs are particularly high with Banks and Jewelry stores requiring even higher forms of security and more complex access control systems.
Bill's Lock, Safe & Security provides professional and discreet security services for commercial locksmith applications in Westfield NJ and surrounding towns.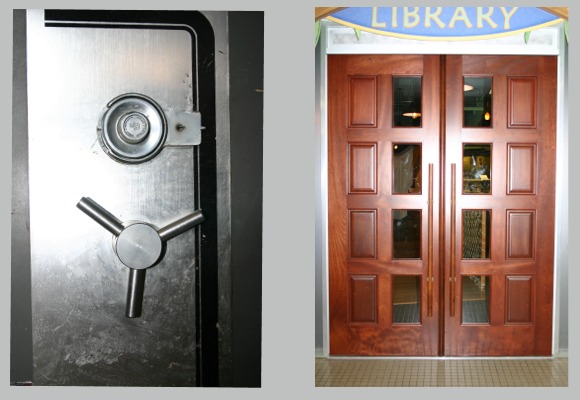 When a lock, key, door or gate needs to be replaced due to loss of a key, criminal activity, hardware issue or another 

security matter there is usually no time to waste. Call Bill's Lock, Safe & Security to secure your building, store or other 

commercial enterprise from unauthorized access.
Industrial Security and Commercial Security Services include Hardware Sales / Repairs / Installations / Electronic Locks / Digital Locks / Master Key Entry Systems / Fire Door Inspections
Certified Master Locksmith
Certified Professional Safe Technician
Certified Forensic Locksmith
GSA Vault & Container Inspector
X-07/X-08/X-09/X-10 Certified
S&G2740 / S&G2937 / LKM-7000
GSA Certified Safe & Vault Technician
IA Certified Fire Door Inspector
Locking Systems and Hardware
Arrow Lock & Door Hardware
Knobsets MK11TA, MK11BD / Deadbolts E61,E62, D61, D62 / Leversets ML11SR / Mortise Locksets, Panic & Fire Exit Devices
Schlage
Knobsets A53PD, D53PD, ND53PD, AL53PD, L Series Mortise Locksets, Mag Locks and Controllers
MARKS USA
Knobsets, Leversets
Baldwin
Mortise Locksets, Handlesets, Hinges, Deadbolts, Knobsets
Medeco
High Security Cylinders in Commercial, Freedom, Keyways and X-4 Interchangeable Cores
H.E.S.
Electric Strike 5000 Series, 1006 Series, 7000 Series, 9600 Series
Corbin
Knobsets CK4200, Motise Locksets ML2000, Exit Devises ED8200, ED5000
Russin
Knobsets, Leversets, Interchangeable Core Cylinders, Mortise Locksets
Sargent
Knobsets 6 Line, 7 line, 8 Line, Leversets 6500 Series, T-Zone, 10 Line, Panic and Fire Exit Devices 80 Series, 88 Series, Interchangeable Core Cylinders
YALE
Knobsets 5400 Series, 5300 Series, Leversets LN 5400, LN 5300, Door Closers, Panic and Fire Exit Devices
Norton
Door Closers 1601BC, 1602BC, 1603BC, 1604BC, 8300BC, 8500BC, 7700BC
Von Duprin
Panic Bars and Fire Exit Devices 98Series, 97 Series, 33 Series, 88 Series, 22Series, Electric Stricks 5100
Monarch
Panic Bars and Fire Exit Devices 17 Series, 19 Series, XX Series
Ives
Flush Bolts, Wall Bumpers, Floor Stops, Push and Pull Plates
Rixson
Floor Closers, Floor Checks 25/28/40
Adams Rite
Electric Strikes 7100, 7140, 7130, 7131, 7400 Series, Panic Bars and Exit Devices 8600 Series, 8800 Series, Latch Locks 4500, 4900, Hook Bolt Locks, Bolt Locks 1850
Folger Adam
Electric Strike 310-2, 310-4, Key Switches
Locknetics
Maglocks 390 Plus, 490 Plus, Exit Buttons, Key Switches
Security Door Controls
Mag Locks, Electronic Bolt Locks
Safe & Vault Products & Suppliers
Kaba-Mas
X-08, X-09, CD-X08, CD-X09
Mas-Hamilton
X-07, CD-X07
Mosler
Safes, Safe Deposit Box Locks, Vaults, Teller Stations and Locks
Diebold
LaGard
Mechanical and Electronic Safe Locks & Vaults Locks
Sargent & Greenleaf
Mechanical and Electronic Safe Locks & Vaults Locks
Inkas Safe
Burglary Rated and Fire Rated Safes
AMSEC (American Security Products)
Burglary Rated and Fire Rated Safes, In Floor Safes, Mini Brute, Super Brute C-3, C-5, C-7, High Security Safes, Amvault TL-15, TL-30, BF Series Safes
ISM
High Security Safes, Burglary and Fire Rated Safes
Mutual
Gem-Vault
Gardall
Burglary Rated Safes, Fire Rated Safes, In Floor Safes